Double M Jazz Salon
First Jazz Salon - February 4, 1996
Horace Tapscott, Roberto Miranda and Fritz Wise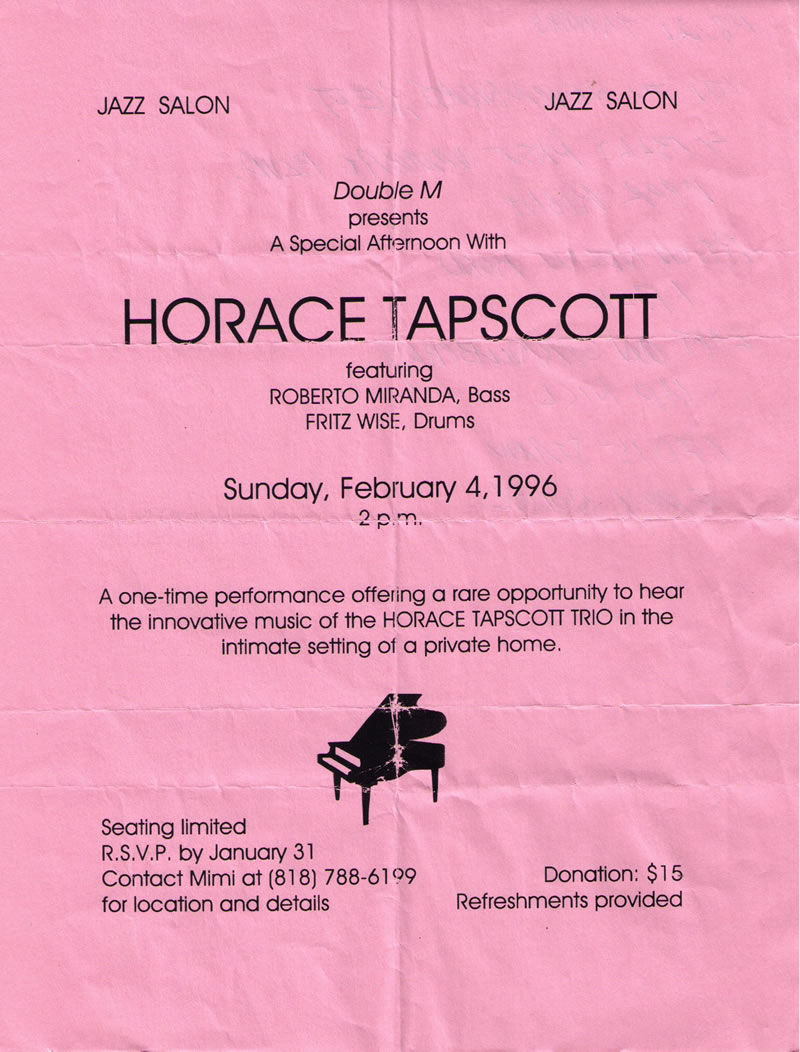 ---
Presents
Mimi Melnick's
Double M Jazz Salon
80th Birthday Celebration with
the Horace Tapscott Tribute Band
Featuring
ROBERTO MIRANDA
Bass

BOBBY WEST
Piano

FRITZ WISE
Drums

MICHAEL SESSION
Alto Saxophone

TRACY CALDWELL
Alto Saxophone

KAMAU DAÁOOD
Poet
Sunday, April 6, 2014, 2-5pm
Pre-Concert Panel Discussion of Horace Tapscott's Legacy
with Roberto Miranda at 1pm
Double M Jazz Salon continues its legacy at the Mayme A. Clayton Library & Museum in Culver City. Jazz Baroness Mimi Melnick first began Double M Jazz Salon in 1996 in her Encino home on Strawberry Drive. Mimi loved jazz, she organized and hosted the Jazz Salons to support the jazz community in Los Angeles.
Mayme A. Clayton Library & Museum is proud and honored to carry the torch.
SEATING IS LIMITED
You can view details about the lineup at the
Mayme Clayton Library & Museum event page or
download the PDF announcement.

Tickets are almost sold out.
PURCHASE YOURS TODAY
SEATING IS LIMITED, so don't wait to buy your tickets.

Plans are underway for two more salons during 2014, and
we will make the announcement on event on Sunday, April 6.
---